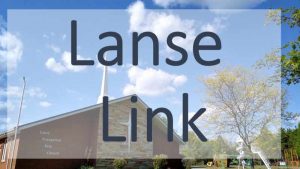 Sunday, February 19, 2023 – Lanse Evangelical Free Church

Church Family News
Wild Game Dinner Meetings – There will be a planning meeting today and Sunday, March 5th following the service. Questions? See Jamie Morgan.

Wild Game Dinner – Join us for our 2023 Wild Game Dinner on Saturday, March 18th from 5-8pm at Morris Township Volunteer Fire Co Recreation Center with special speaker Mark Ledford. This is a FREE event, but tickets are required for entry. See anyone from LEFC or call 814-345-6500 for tickets.
Read More
Sunday, June 4, 2023 Lanse Evangelical Free Church Church Family News Prayer Items Church Family News Communion Sunday Today we will be passing communion plates for those partaking in the auditorium. There are pre-packaged communion elements for anyone, inside or outside, who would prefer to use them as we worship together at the Lord's Table. We have a gluten free option for those with special dietary needs. Kids Bible Class When the children are dismissed…
Read More