Feeding the Faith of LEFC Families
TFT: When Motherhood Is Hard
Dear LEFC Parents,
Here's what you need to know this week:
Things Are Happening!
We had our first Family Ministry planning meeting on Tuesday night and got the ball rolling for 2023. Among the many exciting things in the works:
– Snack and Yack! A new ministry aimed at upper elementary and middle-school kids (roughly grades 3-7) will be an after-church sermon-interaction time on Sundays. More on that soon!
– Family Bible Week 2023. Holly is planning to direct FBW this year, and people are already signing up to help organize it. See her to add your name to the growing list and find out what week is on our radar.
Summer Camp at Miracle Mountain Ranch
If you want the best discount, right now is the time to register for camp. Talk to Marilynn Kristofits about the cost, deadlines, and details.
The Gospel Project at Home
Today's Bible Study: "Eli's Sons Disobeyed God." (Volume 3, Unit 9, Lesson 5).
Worldview Training for Youth
The youth class meets tonight at 7:00 upstairs in the Youth Room. See Keith Hurley for more details.
And for Dessert…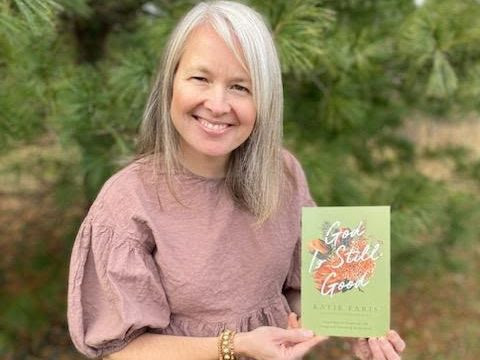 Katie (Thompson) Faris knows what it's like to be the mom of a "medically complex family" as more than one of her 5 kids have been diagnosed with serious medical conditions, and she wants to encourage mothers that God Is Still Good even when motherhood is hard.
Katie is a friend to many of us as she was a member of LEFC when she was a missionary with the Crossroad Youth Center after she graduated from Grove City College. Her newest book (just came out this week!) is full of scripture, encouragement, comfort, and hope.
Check out:
– Katie's 5-Day YouVersion Devotional based on her book.
– A video introduction.
– Katie's Spotify playlist of songs that sing the truths she's emphasizing.
– 31 minute podcast interview with Katie, "The Unexpected Sorrows of Motherhood"
– The book in the church library or buy it from the booktable in the foyer.
We hope your family eats it up.
Matt Mitchell, Pastor
Holly Crumrine, 2023 Family Ministries Coordinator
****
---
EXPLAINER: THE GOSPEL PROJECT AT HOME
For the last several years, our Children's Church ministry has utilized The Gospel Project as our Bible study curriculum. The Gospel Project is really excellent–it takes our Little Learners and Bible Explorers chronologically through the whole Bible over the course of three years while always focusing on Jesus as the center of the big story. If your student was in Little Learners or Bible Explorers this morning, they received a coloring page and take-home sheet that corresponds to this lesson. You have also been given a full-color Big Picture Card that you can use to reinforce the lesson with your child, as well.
To reinforce what your kids are learning each week in Children's Church, you can now access The Gospel Project At Home online. Each week in this email, there will be a link to follow to get this free resource which includes:
1. A guide to using the Gospel Project at Home.
2. Scripture to read and discuss with a recap video of the Bible Story (Preschool and/or Elementary).
3. Scripture memory verses and a song to sing together.
4. Prayer prompts and family activities that correspond to the lesson.
Please consider setting aside at least 10-15 minutes once a week for a family devotional time using this resource as a guide. We are hoping The Gospel Project At Home will help keep all of our LEFC kids "on the same page," and feed their faith in Jesus.
This might be especially helpful if for some reason your child has to miss a week of Children's Church. You can show them the Bible story video to keep them up to speed on what the other children are learning.
**Note: The first time you access the link, you will need to register a free account with Lifeway's Ministry Grid. This will also provide you ongoing access through the "training" tab to many other discipleship resources including the Gospel Project at Home for previous weeks. Many hours of excellent things to absorb for free!